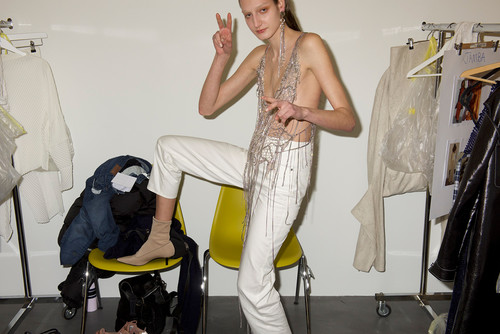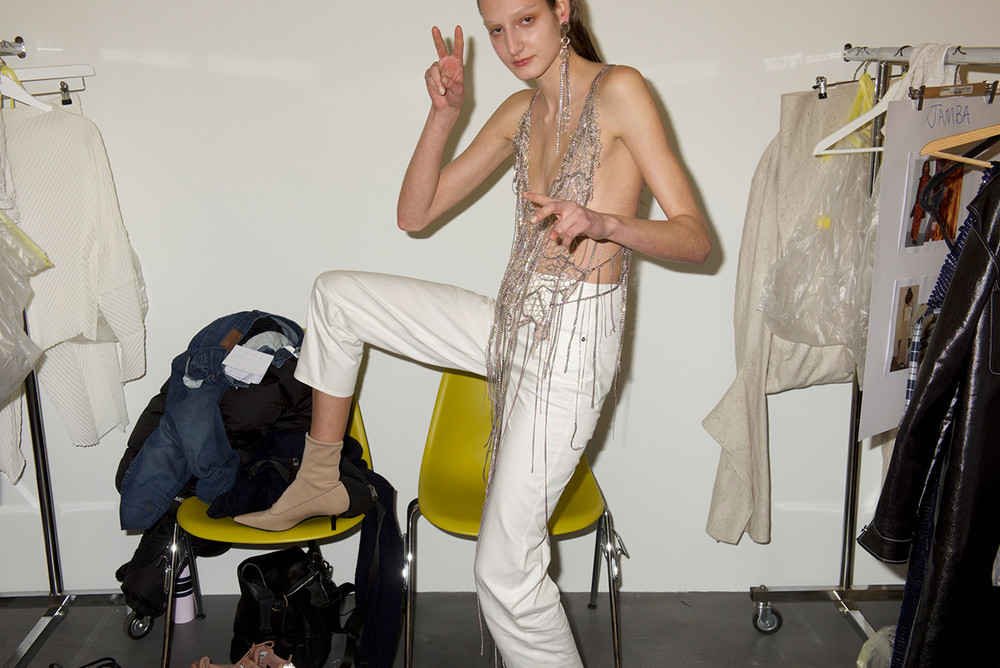 16 May 2018
Bewusst bewegt sich AFTER WORK STUDIO am Rande des Erkennbaren, des Wiederkehrenden und des ganz Anderen. Mit Liebe zum Detail und viel Lässigkeit erweitern Mathias Fürst und Karin Wüthrich ihr Werk mit der Serie N° 3 NO GUNS ALLOWED IN THE (VALLEY) STUDIO. Damit entwickeln und verfeinern sie ihren Ansatz, bei dem weibliche Eleganz und männliche Lässigkeit aufeinandertreffen, abseits vom saisonalen Rhythmus: ​"There is no shooting. Our series no. 3 arises from the romanticised interaction with the longings of a digitialised society as much as from the delight in an unashamed transfer of amateurism."
Mathias Fürst ist gelernter Grafikdesigner und hat unter anderm bei Jung von Matt/​Limmat and Leo Burnett Zurich gearbeitet. Karin Wüthrich hingegen ist gelernte Schneiderin, die bei Peter Pilotto und Peter Jensen in London gearbeitet hat. Beide haben ihren Master in Fashion Design an der HGK Basel 2015 absolviert und wurden im gleichen Jahr unter den zweihundert neuaufkommenden Designern bei Vogue Italia aufgenommen. Karin Wüthrich und Mathias Fürst, Mitglied vom Think Tank Kontext (Swiss Textiles), geben Gastvorlesungen am Institut Ästhetische Praxis und Theorie, Basel und an der HEAD Genf. 2016 und 2017 wurden sie für das Fashionclash Festival, Maastricht, ausgewählt und 2017 für die Mode Suisse in Beijing (InnoFashion).
Könnt ihr euren Zugang oder Methodologie beschreiben? Unsere Arbeitsweise entspricht einem Dialog, der von Kollektion zu Kollektion weitergeführt wird.
Als Zweierteam aus verschiedenen Disziplinen ist dieser Dialog auch immer durch die Naivität des einen gegenüber der Disziplin des anderen geprägt, was sowohl im Entwurf als auch bei der Umsetzung zu unkonventionellen Lösungsansätzen führt.
Ausgangslage für diesen Prozess ist oft eine Fragestellung in Form eines Textes, eines Bildes oder eines Materialexperiments.
Haben jüngste technologische Entwicklungen eure Arbeitsweise verändert? Wenn ja, wie würdet ihr diese Veränderung beschreiben?
Wir denken, dass gewisse Aspekte unserer Arbeit immer wieder durch technologische Neuerungen beeinflusst werden. Was uns aber noch mehr interessiert, sind Neuinterpretationen alter Handwerkstechniken, die wir gerne in einen neuen Kontext stellen. So versuchten wir in der Kollektion NO GUNS ALLOWED IN THE (VALLEY STUDIO), klassische Klöppelspitze in Form von Metallringen und Ketten nicht nur neu zu visualisieren und materialisieren, sondern auch den aufwendigen Herstellungsprozess nachzuempfinden.
Wie sieht eure Arbeitsumgebung aus? Wie wirkt diese Umgebung auf eure Arbeit und Produkte?
Unser Atelier befindet sich in einem alten Hafenbahnhof in Kleinbasel. Der Innenhof, in dem sich das Gebäude befindet, ist von Wohnhäusern und einer Schreinerei gesäumt, was eine ruhige, aber trotzdem geschäftige Atmosphäre schafft.
Die vier Räume unseres Ateliers sind so zueinander geöffnet, dass die einzelnen Schritte des Entwicklungsprozesses, aber auch die beteiligten Personen, immer miteinander im Austausch stehen.
Was inspiriert euch? Könnt ihr ein Ereignis beschreiben das euch kürzlich inspiriert hat?
Inspiration findet sich quasi überall. In Literatur, Musik, Film, Medien, Fotografie, aber auch beim Zugfahren oder beim Sitzen im Kaffee, wir möchten uns da nicht festlegen wollen.
Manchmal sind es ganz absurde Dinge, wie das Katzenklavier von Atanasius Kircher, das von Daniel Kehlmann im Roman «Tyll» beschrieben wird aber auch Trivialitäten wie ein schlecht rasiertes Männergesicht.
Gibt es Designer die für euch heute wichtig sind? Warum? Faustine Steinmetz überrascht immer wieder mit Oberflächen. Wang & Söderström schaffen durch die Transformation von Digitalem in die Realität frische Eindrücke. Craig Green bewegt sich konstant auf eigenen Pfaden und lotet Grenzen aus, ohne aufgesetzt zu wirken.
Mit welchem Unternehmen möchtet ihr arbeiten? Mammut wäre interessant oder dann mit dem Regisseur Spike Jonze.