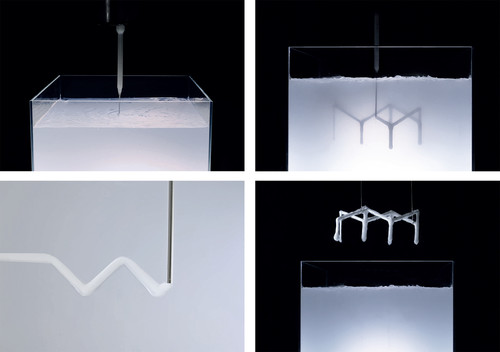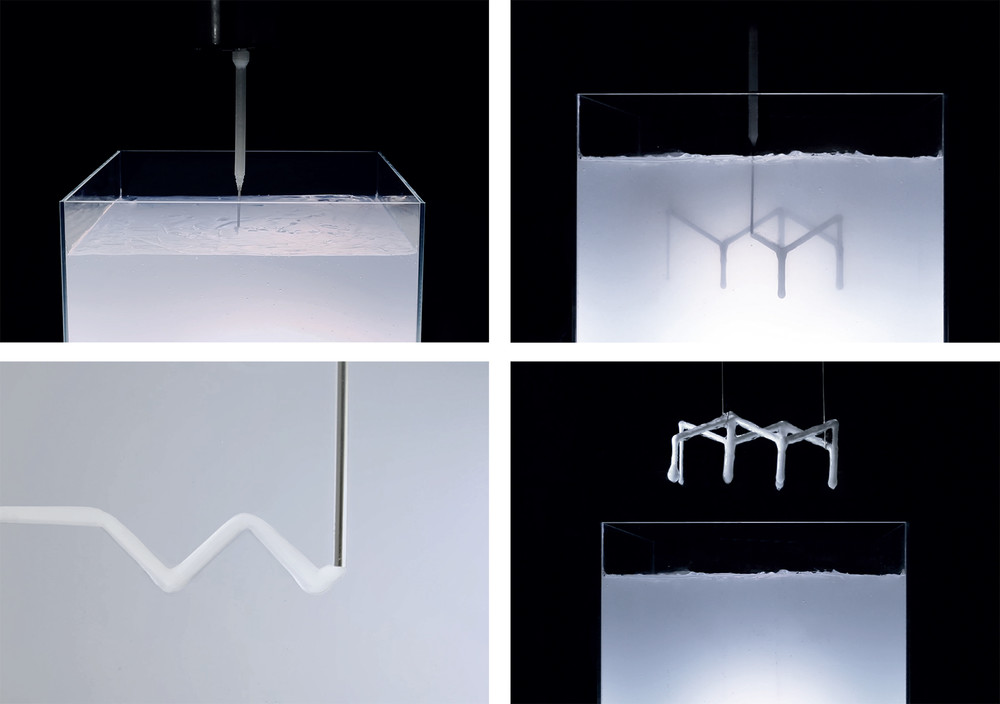 14 May 2018
Christophe Guberan​'s industrial design studio creates innovative solutions and products. With a strong emphasis on collaborating with the industry and by implementing new technologies, he challenges the way we use materials and rethinks the production process. His Hydro-Fold project, a self-folding paper printed from a desktop 2D printer, has received wide academic and public attention that resulted in an ongoing collaboration with MIT's Self-Assembly Lab.
The latest result of that collaboration is a futuristic manufacturing facility based on rapid liquid printing, a breakthrough 3D printing technology, presented in that video and at Design Miami 2017. Developed in collaboration with MIT's Self-Assembly Lab, it allows to rapidly produce large-scale objects out of high-grade materials like rubber, foam, or plastic in a matter of seconds by ​"drawing" them in a gel suspension, using a robotic arm.
Christophe Guberan graduated 2012 from ECAL in product design and was awarded the Hublot Design Prize 2016. His works have been showcased at internationally recognized exhibitions and festivals such as Design/​Miami; Mutations-Créations at the Centre Pompidou in Paris; the Milan Furniture Fair; and the Salone Satellite in Milan. Some of his objects have been produced by leading companies such as Alessi.
Can you describe your approach or methodology to design?
In my practice as a designer, I aim to appropriate digital production technologies in order to explore their formal or functional potential. I'm always looking for simple and open formatting principles. I try to imagine new types of production or applications, for which the machines were not initially intended.
Did recent technological changes impact your work? If so how?
Today, new technologies (Computer Numerical Controlled machines, 3D printers…) are essential tools in my work. More importantly, they are an integral part of my creative process. I like the idea of hijacking the use of a new technologie, to turn them into manual experimenting tools. I favor an intuitive approach, working more on hardware than software. This aspect plays an important role in my practice. In my sense it is crucial for designers to tinker and to keep a playful interaction with technology in order to come up with new processes for existing machines, as complicated and technologically advanced as they may be.
What inspires you? Can you describe an event that recently inspired you?
In my practice, I have the opportunity to travel a lot, for workshops, conferences or other projects. In this context, I have the opportunity to meet and exchange with many different people. This constantly changing environment allows me to immerse myself in new environments, and help me make my work evolve. I like the idea of constantly evolving far from my comfort zone. For me today it is important to be very mobile.
Are there important designers for you today? Why?
The designers who inspire me the most are those who seek to question the practice of product design today.