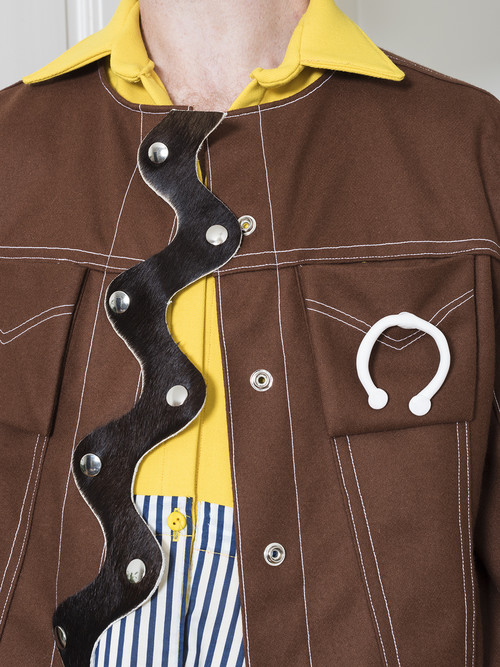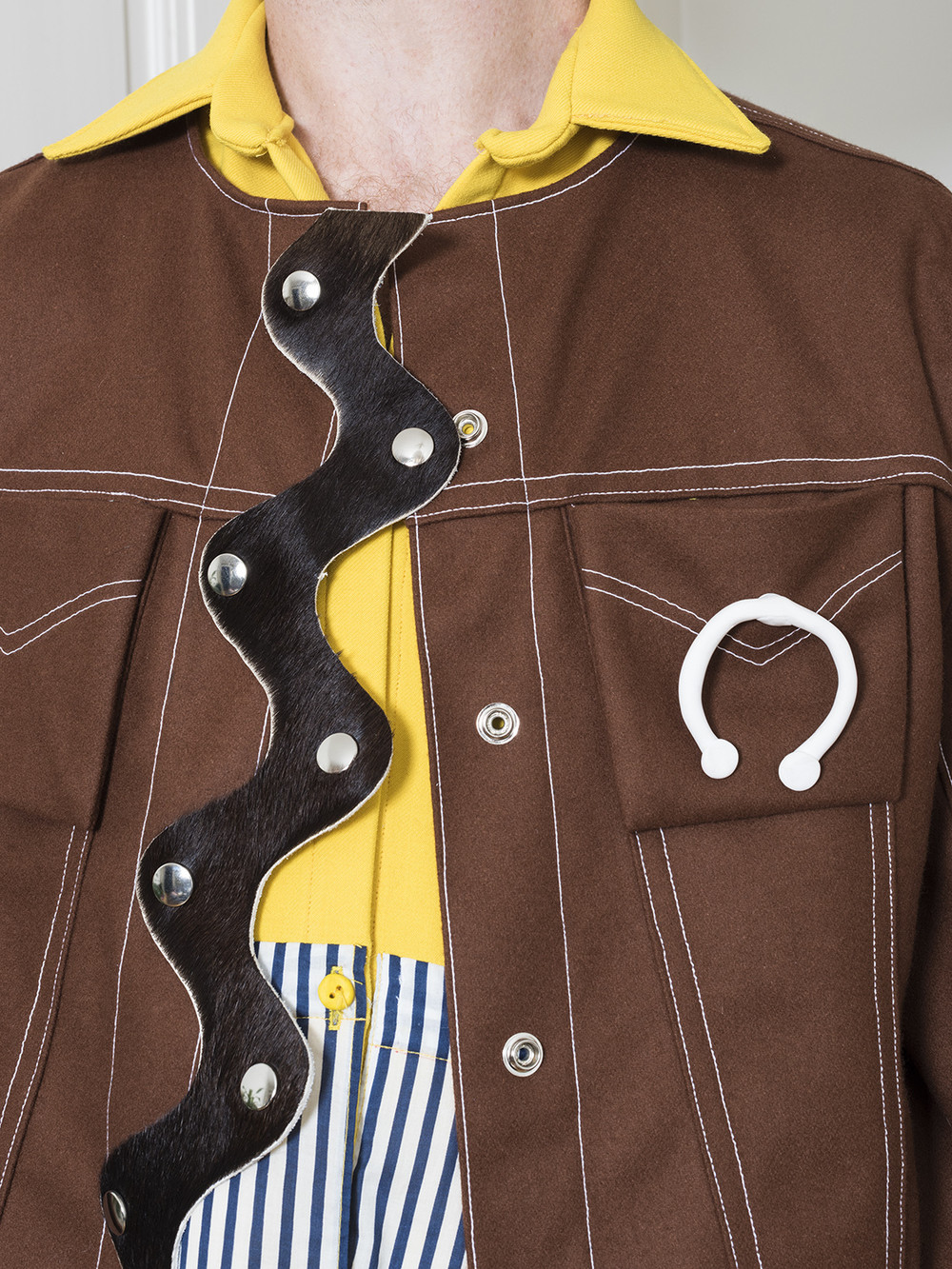 12 May 2018
The first collection ​"Remembering a feeling I am about to have" by fashion designer Mendes Salvador Miguel Filipe find its origin in the encounter of a surprised sensation and a re-imagined heritage. Inverting habits, introducing layers, displacing openings, Miguel Filipe guides the masculine experience towards moments of sensual discoveries, while inspired by the care embedded in the design of traditional garments. While the cloths give an attractive feeling of comfort and originality, the handmade buttons and painted patches underline a sense of value and uniqueness, giving the collection a sense of joyful happiness.
Mendes Salvador Miguel Filipe studied economy before art, starting at the Kunsthochschule Weissensee in Berlin. After having worked at Steinrohner in Berlin, he enrolled at the HEAD in Fashion design, where he had workshops with Faustine Steinmetz and Arnaud Lajeunie. His BA collection received the Bongénie Award 2017, about which Mikael de Picciotto, head of sales and e-commerce at Bongénie Grieder, states: ​"His collection for men proposes a wearable high quality product, that while exploring new materials is being very creative with aesthetic references."
Can you describe your approach or methodology to design?
My approach to designing is quite simple: Fashion makes me happy and I wanna make people happy with my fashion. In our society we consume a lot of garments that at the end we don't need, we use them once, or not at all. We buy, we throw away and we buy something else. There is no place for a sensual connection to garments anymore – no touching, no feeling, no apprecia- tion for the details.
As I feel this love for fashion in general and in the garments I create in particular, my goal as a fashion designer is to create a connection between garments and people. Without knowing the people that end up wearing my clothes I am still constantly thinking about making something that they will have on their own skin – a very intimate relationship actually. So the garments I create are thought and made as something you want to trust and love. Our world is full of fast and superficial connections between people and the things they interact with. I create for lasting connections, not the quick rush.
How does your work environment look like? How does your work environment influence your creative outcome/​designs?
I recently graduated from my studies at HEAD Geneva, so for the longest part of my professional life, my workplace was a desk in our studio at school. A beautiful and bright place, always busy and in movement. My workspace was literally where I spent most of my time for the last years — next to the window, always a bit messy and surrounded by other people in the process of crea- ting. The energy /​vibe of creating is almost touchable in this room and was super important for my own creative process.
The fashion department of HEAD Geneva is right next to the main station – a place of coming and going, rushing, arriving and changing. I always loved that, because you have to stay alert, fast and you are exposed to a lot of input. I want to keep this feeling for my place of work: nomadic, inspiring and agile.
What inspires you? Can you describe an event that recently inspired you?
My own identity and heritage … being Swiss-Portuguese will always be part of my creative DNA and my love for my home away from home: Portugal and its food and smells, the light of the south, its people, their traditions and rituals will be part of everything I make.