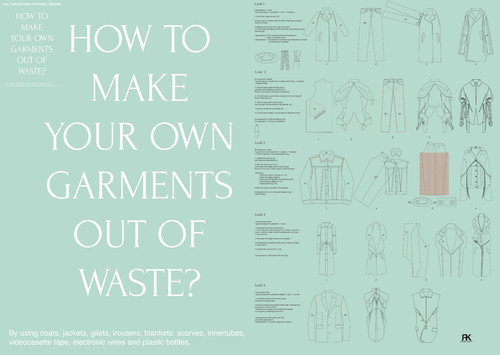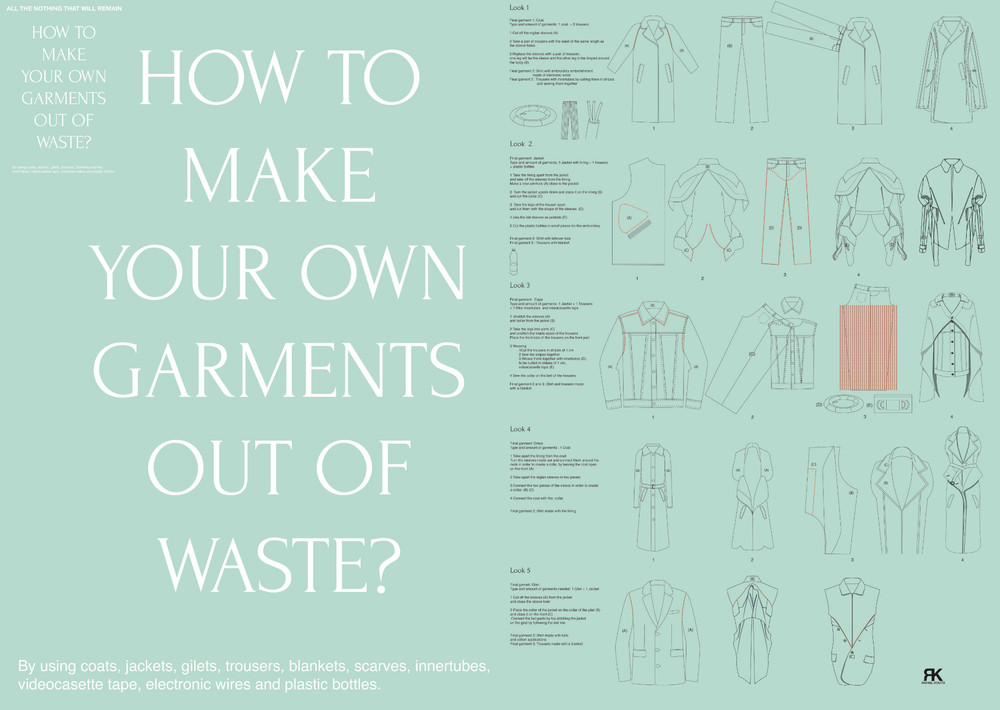 30 April 2018
Swiss textile and fashion designer Rafael Kouto refers to his cultural origins, mixed with the practice of upcycling — a very common practice in Africa — to build his business model and cultural background of his brand. His new collection ALL THE NOTHING THAT WILL REMAIN focuses on sustainable and environmental design systems, mixing upcycling with couture techniques, namely prints, embroidery and weaving.
Kouto's aim is to research, write about and promote the upcycling of waste garments and materials, for his own brand as much as in the sustainable department of fashion groups. A year ago, Kouto started collaborating with recycling centres like Texaid in Switzerland and in The Netherlands, collecting waste garments, textiles and unusual materials to be transformed. On the upcoming online shop and through workshops, Kouto offers to learn about customising one's own old garments. He will further promote the open source approach to sustainable design with a pop-up display in concept stores, galleries, museums and fairs.
Kouto recently graduated with a MA in Fashion Matters at the Sandberg Institute in Amsterdam. He has a professional background in couture from Alexander McQueen, London, and Maison Margiela, Paris and Ethical Fashion Ethical Fashion Initiative, United Nations, Geneva and lately for the french ready-to-wear brand Carven in Paris. Kouto's previous collection DRAG ME TO THE AFTER HOUR ON THE DARK SIDE OF THE MOON /​THE MOON PARADE has been shown at the fashion competitions Fashionclash (NL) and Mittelmoda (IT) and published in the Britsh GQ, Vogue​.it, Fuckingyoung​.es, and Idol Magazine.
Can you describe your approach or methodology to design?
My way of designing has completely changed from the traditional way of making clothes that I have learnt through my educational and professional background. I became more critical about the creative process in fashion and the production system, while questioning where the original inspirational garments are disappearing during the creative process. The new design system that I'm adopting is based on the potential of sustainable design and local production, taking discarded materials as the main resource. The limitation and challenge in designing with waste, is that everything has a value: no mistakes and no prototypes are allowed, because in this new way, the material is unique. At a certain point of the process, waste becomes a real treasure, and I really appreciate the properties of the materials and uniqueness of the items I am working with.
I realise how the resources of our planet are running out. I see how something unwanted and considered as waste by many could represent an unlimited resource. By using the medium of fashion and the body as expression, I'm aiming to extend the trend of upcycling as a collective practice and as a de-westernization of our current creative and production process in fashion.
Did recent technological changes impact your work? If so how?
There are few technological changes that I've been adopting into the design process, but the traditional craftsmanships and couture techniques are still prevailing in my work. It requires a lot of handcraft, knowledge and craftsmanships to transform a mass produced garment into a unique piece, to switch from fast fashion to slow fashion. I see technology more as an extra tool, or as a replacement of the manual work fueled by a capitalistic economy that mostly ends into overproduction. I see technology way more relevant into my work to communicate and share through my future online shop, in order to involve and empower the customer in the creative and production process in fashion.
How does your work environment look like? How does your work environment influence your creative outcome/​designs?
So far I had a very nomadic soul. My work environment it reflects my life in a displaced and uncertain professional future: desk, laptop, books, notes, inspirational pictures and sketches.
But I consider my work environment very much wider than this, if I consider the constant dialogue with the materials that I'm collecting and the people that I'm collaborating with, from which I constantly get inspired. I like the concept of open source couture in order to extend the range of the atelier. Displaying and showing the process triggers and challenges the imagination of the people involved and of the consumer.
What inspires you? Can you describe an event that recently inspired you?
I am very much fascinated by the contrasts between the Swiss and African cultures, which may seem opposite but also have many similarities. I have recently discovered the relation between dadaism and Africa, which is something I will certainly investigate in the future.
Are there important designers for you today? Why?
I think that Alessandro Michele at Gucci and Miuccia Prada are still very good examples about how to use their culture and heritage, from the marketing strategy to the design process and the final products. Even if sustainability does not appear as a concern to them.