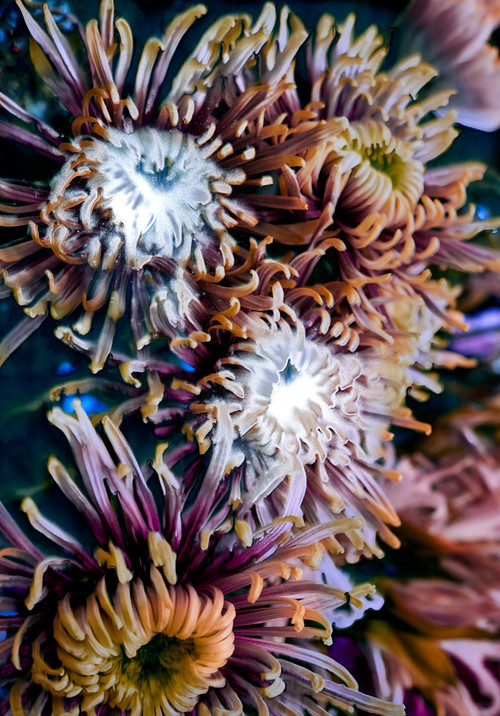 23 April 2018
«De peintures fabriquées à partir d'imprimants hackées à des pixels de ravers aux peaux distendues, la réalité devient un voyage au coeur du désirable et de l'inquiétant.» Ainsi décrit Kim Knoppers, curatrice de FOAM Amsterdam, la récente exposition de Jean-Vincent Simonet. Une installation vidéo qui prend tous les murs, des photographies accrochées sur des tapisseries florales hypercolorées et une installation multi-écrans au milieu d'une foule écoutant un set de Trippin Jaguar au casque forment l'exposition Dimitri, or the Silent Orgasm. Dédiée aux distortions perceptives par la molécule naturelle DMT, l'exposition immerge le spectateur dans un monde chavirant.
Avec ses manipulations sur les imprimantes et les supports, Simonet intervient sur ses propres clichés jusqu'à obtenir des images sensuelles, enivrantes. Comme celles qu'il a rassemblé dans son «carnet de voyage», Notes and Painting from Japan. C'est riche de ses expériences que Jean-Vincent Simonet publie dans de nombreux magazines en Europe et au Japon, comme NZZ Toolbox, IMA Japan, Mouvement, British Journal of Photography, Interview Germany ou encore Jalouse. Il a participé aux Rencontres de la Photographie, Arles, et à Offprint, l'exposition annuelle des éditeurs indépendants à la Tate Modern, London.
Peux-tu décrire une approche ou une méthodologie qui te distingue, ou que tu suis dans votre travail?
J'utilise la photographie comme une matière première. La majorité de ma production est réalisée de manière analogique, puis digitalisée, et enfin imprimée pour subir une série de manipulations. Je m'éloigne des transformations digitales pour retourner à une approche physique du médium, et me rapprocher, à mon sens, de la peinture. Imprimantes à sublimations modifiées, jet d'encre sur papiers inadaptés, ou encore interventions avec de l'acide ou de l'époxy sont au coeur de mes recherches. Les rapports en permanente transformations entre peinture et photographie, ainsi que l'évolution des usages de cette dernière sont à l'origine de ma démarche.
Peux-tu décrire succintement ton environnement de travail? Comment cet environnement influence-t-il directement ton travail et tes produits?
Il est important pour moi de ne pas avoir un environnement de travail fixe. J'essaye de me déplacer au maximum pour ne pas tomber dans une routine. Mon dernier projet personnel a eu lieu en immersion au Japon, où je suis resté plusieurs mois. L'éditing et les phases plus expérimentales ont lieu en Suisse, à Lyon, où je produis la majorité de mes tirages, ainsi qu'à Paris, où je travaille avec des amis designers. Le tout est ponctué de commissions qui me font voyager dans différentes villes et qui permettent d'avoir un certain équilibre entre recherches personnelles et travail de commission.
Quels designers sont importants pour toi aujourd'hui? Pourquoi?
J'ai un grand intérêt pour tous les designers qui repoussent les limites de leurs médiums, qui mélangent les disciplines, et qui développent de nouvelles manières. On peut citer Maximage avec leur développement de colorlibrary, Jesse Kanda qui mélange une approche unique de la photographie et de la 3D ou encore Kenta Kobayashi…