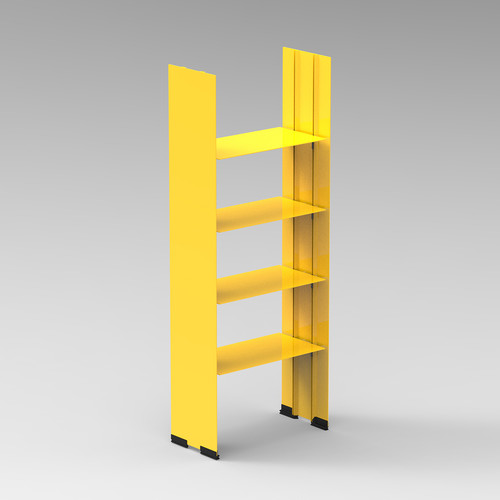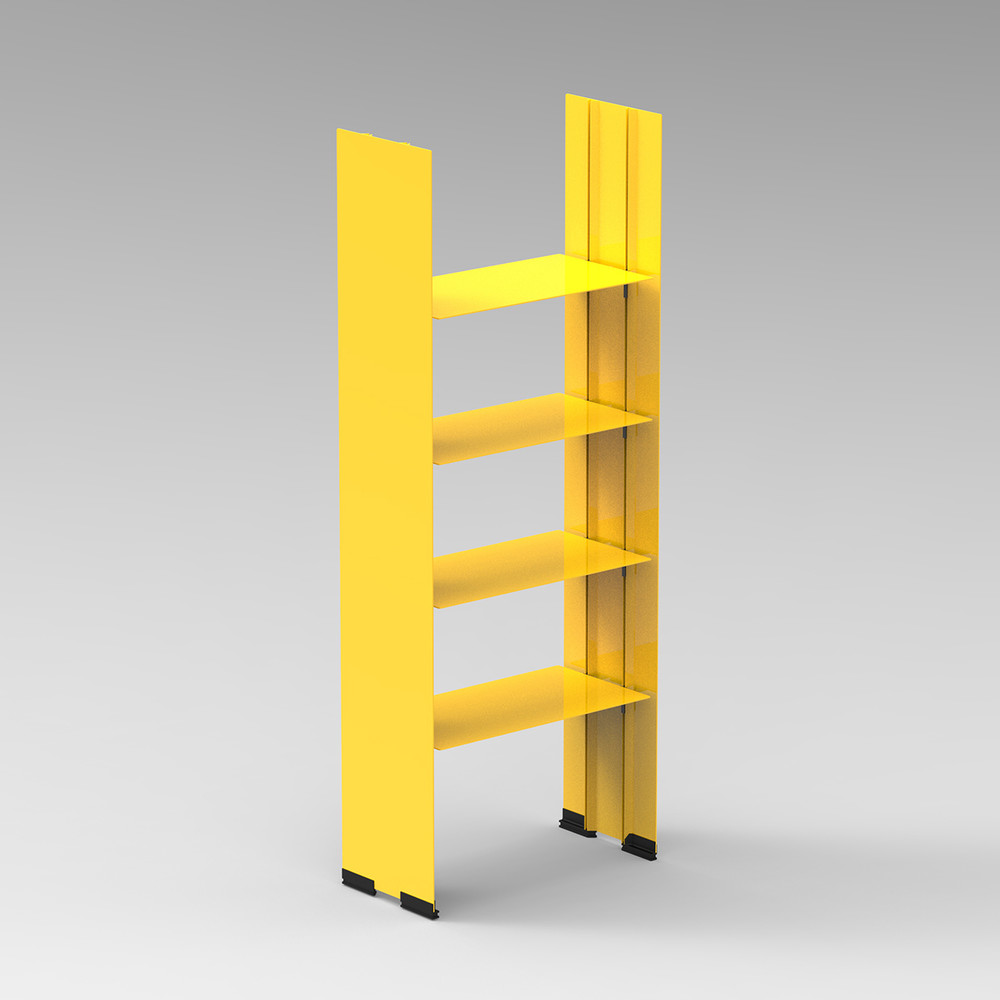 26 April 2018
The London-based designer Alexandra Gerber will present her new project, Up Shelf. The free-standing shelving system allows a flexibility in height without any tools or locks. The design features an economic solution as the shelf floors and side panels are based on the same aluminium extrusion profile, while the joints borrow technologies usually applied to window construction. The new design is being developed with SAPA group, UK.
Alexandra Gerber has already been featured at the Swiss Design Awards with her Bucket Research. In the meantime, she worked on many different design projects including: Deja Vu picture frames, in collaboration with Camille Blin, the Langewolle rug developed with Mufflon, the alternative trouser belt Boyfriend Hook, the outdoor bench Heat, presented at the Hermes Competition, and Allalu, a shelving made from corrugated sandwich panel of 100% aluminium, Metawell.
Can you describe your approach or methodology to design?
What I am looking for is an idea that has some form of newness to it. Something able to form a new meaning or improve the existing. This can be achieved by using new or better materials, reducing the amount of components or improve the function and ease of use. When the idea, the materials and the function all come together and just work then you know you've got something.
It is great when the products are innovative because of the simplicity of their construction, and thus retain strong semantic values in their form. Semantics interest me a lot – how from a series of elements you are able to make something that communicates for itself what it is and where it came from.
Did recent technological changes impact your work? If so how?
I think there is a lot to do with fabrics, it has lots of qualities such as being lightweight, environmental friendly and talks about a long history of crafts to a wide audience. 3D knitting, for instance, is fascinating, because you can integrate all the required functions and produce a strong and complex piece in one go.
How does your work environment look like? How does your work environment influence your creative outcome/​designs?
I have a very big desk, a bench with tools, books and a lot of found objects, samples and materials. When I start a project, there is a necessity for me to play with physical elements, I need to engage with the parts, the volumes and shapes, so I would always go through the samples, arrange them, combine them. It helps me form thoughts.
What inspires you? Can you describe an event that recently inspired you?
Recently, the grime music scene perhaps? Because it is truthful and powerful. The genuine home made videos of these artists are simply energising. They make you smile, laugh even, it's very inspiring.
Are there important designers for you today? Why?
Yes of course! Achille Castiglioni and Gino Sarfatti are important references. Konstantin Grcic is a bit of a hero for me.
With what company would you like to work with?
All the ones that are ready to take a bit of risk and time for experiments.