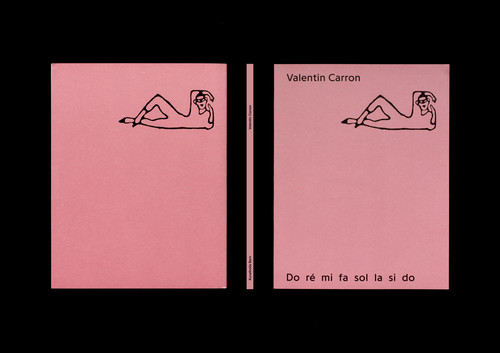 11 May 2018
Die in Paris und Zürich lebende Buchgestalterin Marietta Eugster hat mit Publikationen einige Erfahrung, die bereits fünfmal mit dem Preis Die Schönsten Schweizer Bücher prämiert wurde. Mit Engagement, Feingefühl und Experimentierfreude übersetzt sie Inhalte in die Form eines Buches. So werden z.B. für Cédric Eisenrings Zeichnungen und Tiefdruck-Prägungen durch den Offsetdruck in Kombination mit grossflächigen Magnesium-Blindprägungen ins Buch übersetzt.
Eugster arbeitet häufig mit Künstler_innen zusammen, auch im Eigenverlag, wie mit H.R. Giger oder Tobias Madison (Die Schönsten Schweizer Bücher 2012). Bei Edition Patrick Frey hat sie Publikationen mit Bochsler /​Sarasin (Die Schönsten Schweizer Bücher 2014), Billy Sullivan und Anton Bruhin gestaltet.
Auch für Ausstellungen findet Eugster eine Übersetzung. Zuletzt gestaltete sie die Publikation zu Le journal de l'université d'été de la Bibliothèque Kandinsky, am Centre Georges Pompidou, Paris; den Katalog für die Ausstellung Virginia Woolf— An Exhibition Inspired By Her Writings, in der TATE, London; und 2016 den Führer für die Kochi-Biennale Forming in the pupil of an eye in Indien, der 2016 bei den Schönsten Schweizer Büchern prämiert wurde.
Kannst du deinen Zugang oder Methodologie beschreiben?
In der Gestaltung reflektieren sich künstlerische Positionen, Ausstellungskonzepte, und narrative Ideen.
Haben jüngste technologische Entwicklungen deine Arbeitsweise verändert? Wenn ja, wie würdest du diese Veränderung beschreiben?
analog #digital #Haptik #Optik #Mensch #Maschine
Wie sieht deine Arbeitsumgebung aus? Wie wirkt diese Umgebung auf deine Arbeit und Produkte?
Paris #Zürich