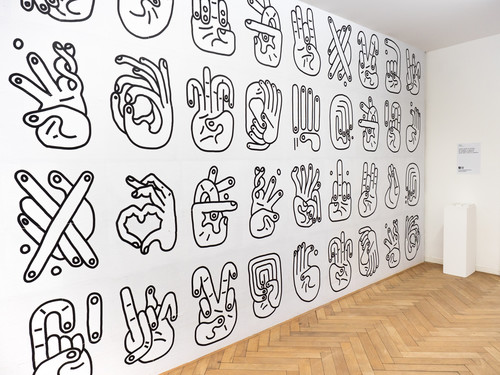 19 April 2018
Tobias Gutmann studierte visuelle Kommunikation in Bern und absolvierte einen Master of Fine Arts im Bereich «Storytelling» in Stockholm. Seitdem entwickelt der Künstler, Grafiker und Designer eine vielschichtige, oft kollaborative Praxis, in der seine handgezeichnete Linie Menschen verbindet. So entstehen Muster für Pullover sowie abstrakte Zeichen die als Sticker in einer App verwendet werden, und erst im Nachhinein, durch die Nutzer, ihre Bedeutung erhalten. Für eine engagierte Indie-Rock Band aus Seattle entwickelte er Cover, Lyrics Fanzine, Kostüme und Szenographien für Videos.
Konkreter wird es mit Face-O-Mat, ein Workshop in dem Tobias Gutmann Menschen porträtiert. Den Workshop hat er seit 2012 rund um die Welt durchgeführt – sowohl in seinem Geburtsort Wewak in Papua Neu-Guinea, in Hong-Kong, als auch im Centre Pompidou in Paris. Face-o-mat und The Handmade Selfie, sind eine Art «Analoge Automaten», oder besser gesagt, analoge «Interfaces», die mit Humor die zunehmende Medialisierung von zwischenmenschlichen Beziehungen hinterfragen.
Kannst du deinen Zugang oder Methodologie beschreiben?
Ich sehe mein Handwerk, das Zeichnen, als Sprache mit der ich mit anderen Menschen in Verbindung trete. Es entstehen Dialoge, die ich festhalte und darüber reflektiere. Ein spielerischer Zugang ist unglaublich wichtig für mich. Ich mag auch Zeitgrenzen. Wenn ich mir 3 Minuten Zeit nehme für eine Zeichnung, entsteht etwas anderes, als wenn ich 3 Stunden zeichne. Ich versuche dabei nicht sofort zu werten.
Haben jüngste technologische Entwicklungen deine Arbeitsweise verändert? Wenn ja, wie würdest du diese Veränderung beschreiben?
Ich zeichne meistens mit Tusche und Kalligrafie-Breit-Federn auf Papier. Das war beides in der Antike üblich. Was sich jedoch verändert hat, ist wie wir mit dem gezeichneten oder geschriebenen umgehen. Durch das Internet, ist es möglich eine Zeichnung innerhalb von Sekunden Millionen von Menschen zugänglich zu machen. Für mich spielen soziale Medien eine wesentliche Rolle. Sie ermöglichen einen sofortigen internationalen Dialog, der in meiner Arbeit zu Begegnungen im realen Leben auf der ganzen Welt führen.
Wie sieht deine Arbeitsumgebung aus? Wie wirkt diese Umgebung auf deine Arbeit und Produkte?
Ich rede ungern von Arbeitsumgebung. Mein Atelier ist ein Spielplatz umgeben von Pflanzen, Kartonkisten, Farbe und Zeichnungen. Ich versuche meine Umgebung bewusst wahrzunehmen, und lasse mich gerne von unterschiedlichsten Eindrücken beeinflussen. Mein Atelier in Zürich sehe ich vor allem als Ort der Reflexion, wo ich Ideen testen kann oder einfach mal Zeit zum Denken habe.